90 laptops for participants in the federal "Garantiefonds Hochschule (GF-H)" program
08. Sep 2020
The Bundesfamilienministerium (Federal Ministry for Family Affairs, Senior Citizens, Women and Youth - BMFSFJ) is providing around 90 laptops on a trial basis for participants in the federal program "Bildungsberatung Garantiefonds Hochschule (GF-H)".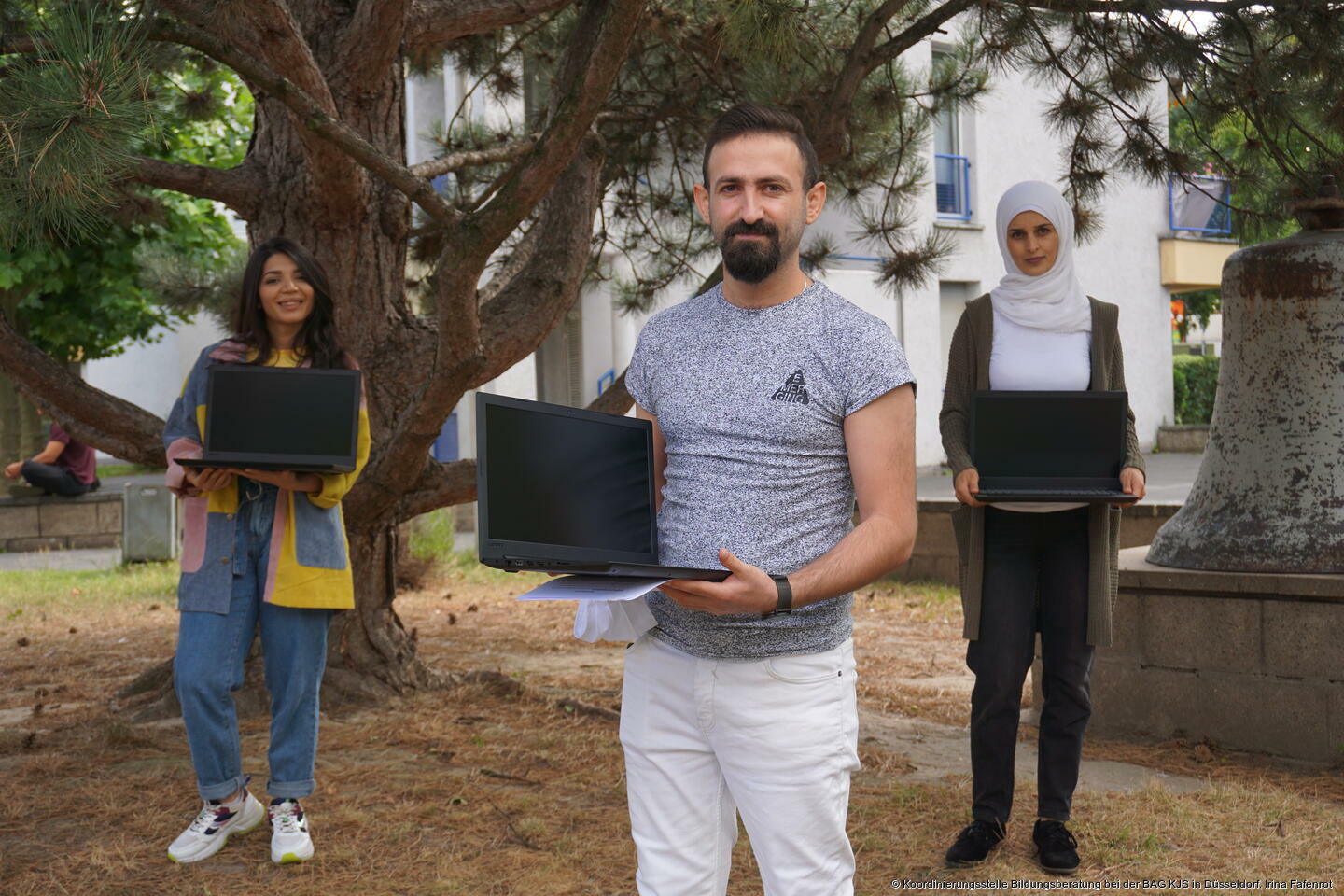 from left to right: Ranim Kordy, Shear Fares, Hadiya Hussein
On Aug. 28, 2020, the first three laptops were handed over to GF-H participants Ranim Kordy, Shear Fares and Hadiya Hussein by educational consultants Sandra Ape and Jens Buschmeier at the Garantiefonds Hochschule educational counseling center in Essen.

With the help of the laptops, language course participants are better and more effectifely able to process what they have learned. Participants who did not have a laptop complained about the low battery life of their smartphones and the small display, which leads to poor concentration, eye problems and headaches after long peroid of work. "Laptops also play an important role in the preparation of homework, for presentations with PowerPoint and generally for the use of office applications. The competent use of Office-programs in particular is essencial for future study at universities", says GF-H education consultant Jens Buschmeier (educational counselling center in Essen) on the benefit of laptops.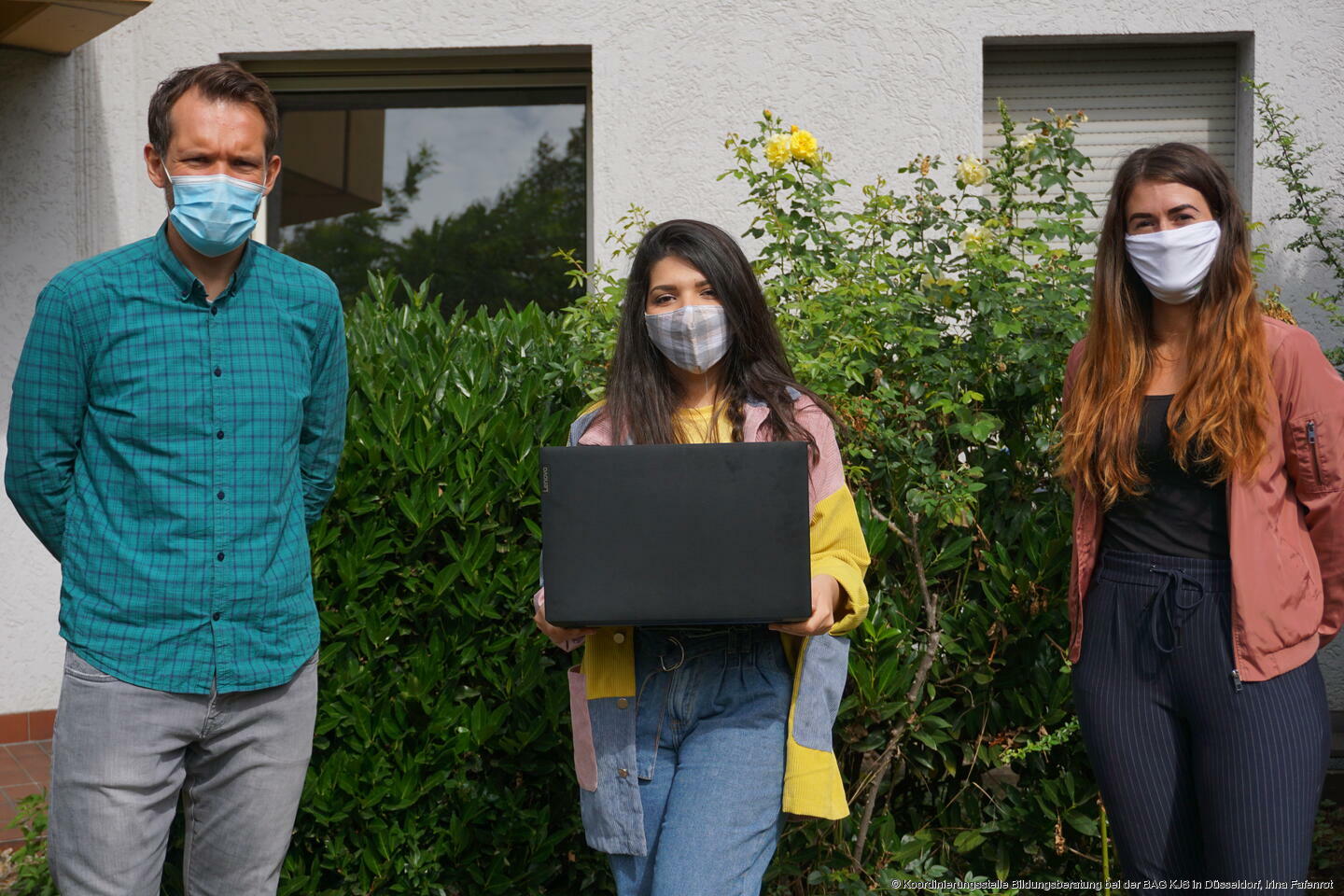 from left to right: Jens Buschmeier, Ranim Kordy, Sandra Ape
The GF-H Participants in this article:
Ranim Kordy: "I'm from Syria. I studied political science for three semesters there. I have been in Germany for five years. To use the leraning plattform without a laptop is very difficult because you can't see everything on a smartphone. When teaching online, the smartphone battery ran out quckly. With the laptop, I can just surf, I'm faster and I can see everything on screen. I would like to thank the BMSFSJ for the support. It is very helpful for me and helps me a lot to learn the language."
Shear Fares: "I'm from Syria. I studied petroleum engineering for four semesters there. I have been in Germany for four years. Without a laptop it is very difficult to use the language learning platform. We need a laptop because it makes work easier. If we have to do a presentation as homework, we need a laptop with PowerPoint. We can't do it without a laptop. This is a great project because it's a chance for us to get this support." 
Hadiya Hussein: "I'm from Syria. There I studied psychology and had to interrupt my studies because of the war. I have been in Germany for seven years. I will use the laptop for the course learning platform where the lessons are uploaded. I could not work well with my smartphone until now. The project is a blessed salvation for all those, who have no chance to buy a laptop." 
Project sponsor:
Bundesarbeitsgemeinschaft Katholische Jugendsozialarbeit / BAG KJS e.V.
Supporting organization of GF-H-Bildungsberatung in Essen:
Evangelische Kirchengemeinde Essen Borbeck-Vogelheim
Pictures:
Irina Fafenrot (Koordinierungsstelle Bildungsberatung GF-H Bei der BAG KJS in Düsseldorf)